Apartment:
Iivisniementie 6 F 46, 02260, Espoo
Suomenoja, Kaitaa, Iivisniemi
3 rooms,kitchen, wc, shower,balcony, apartment building, 76,5 m², rent= 1220 €/month
Available: Not free.
Peaceful and clean city area, metro 100m to Helsinki, near Espoo shopping and business areas. Excellent connections. Within 200 m there are busses, shops, kinder garden, school, parks, good traffic connections. Super stores lso-Omena, Lippulaiva and Suomenoja are near.
The apartment building has large common facilities = laundry, storage areas, storage for bikes.
Car parking is close. Sea and lake are near. 4 stories high building , 3rd floor, end. The neighbourhood has free space, parks, small buildings. Bathroom, toilet and kitchen are renovated. Campus like area. Large kitchen. Functional.
Owned and rented by Raxotech Oy directly.
There is small renovation in apartment till 22.8.2023. But presentation is available.
Ask or book an presentation to view the apartment
Jarmo Kanerva ( Prefer first email jarmo.kanerva@duratech.eu or sms. )
Tel: +358 400 444 590
Calendar :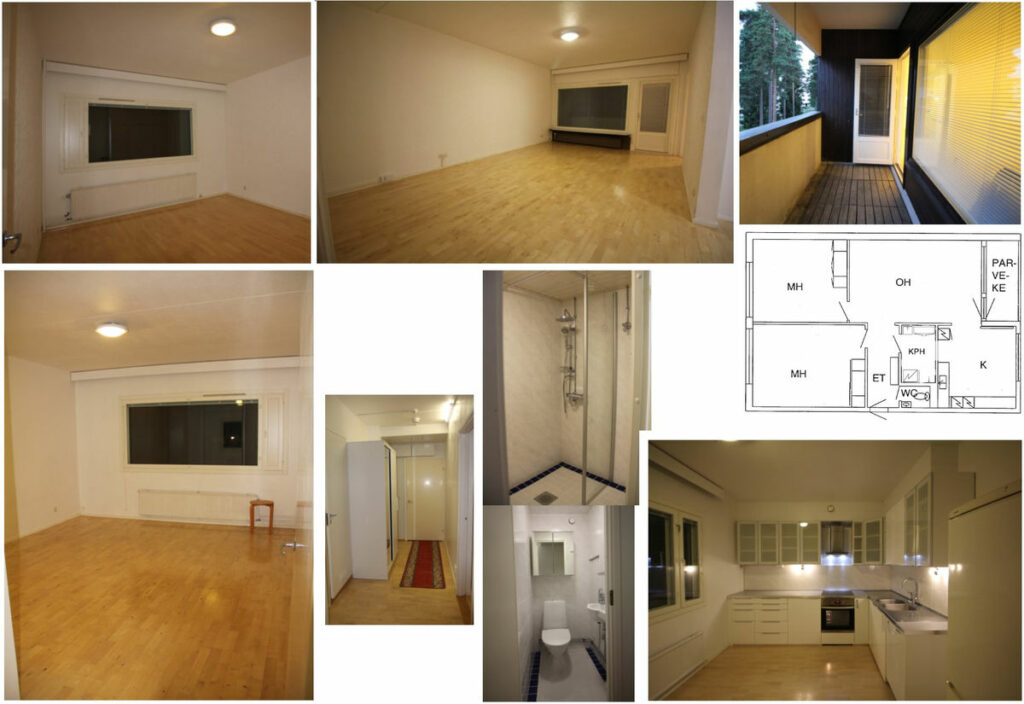 IIVISNIEMI 6 F 46, 02260 ESPOO -EN
ITEM
VALUE
Address
Espoo Iivisniemi
Iivisniementie 6 F 46, 02260 Espoo
Rental type
Apartment
Type
Apartment building
Owned by
Privat company
Floor
3 /4
Free by
1.4.2023, free
Contract
till further notice
Type
3 room + kitchen + wc + balcony
Room count
3 rooms
Build year
1967
Area
76,5 m²
Facilities
balcony, the block of flats has 2 saunas for rent, some storage
Quality
Good
Special terms
Other feeds are not in the basic rent, like water, electricity, sauna fees, parking slot and they are payed to the house. Heating and internet included. Washing machines have been free by the house till now.
Must have home insurance- standard in Finland. Financing background is checked. (Fixed time contract is possible, even with furniture or with other special terms and agreement.)
More
Code
COSTS
Rent:
1 220 €/month
Pay day
1. of the month in advance
Security deposit
1 month rent €
Water fee
16,1 €/person/month,
Electricity
by tenant ( Helen.fi )
Laundry room
8€/month if used,
by tenent,
Sauna:
10 €/month, (weekly). if used. to house

Car slot
25 €/month
Detail info
This house sells services not included in the rent. Electricity separatly from Helen.fi electric Co. Water, car parking, Sauna.
This apartment is great for company use.
DESCRIPTION
Pats
not allowed, but ask if easy pets
Smoking inside
not allowed
Lights
included
Telecom
Cable tv, internet incl., telephone wires
TV sockets:
2
Telephone sockets
2
Balcony to
south
Heating
Central, by house
MATERIAALIT
Building
concrete
Kitchen floor
wood
Living room
wood
WC floor
ceramic
Shower and WC
Facilities
wc, shower, place for washing machine and dryer ( 60x60cm)
WC count: 1
WC count
1
KITCHEN
appliences
Fan, induction stove, dish washer
Stove
electric, induction
Fridgerator
included
HOUSE
Name
Asunto Oy Itä-Kunnas
Housing manager
Oiva Isännöinti oi.fi
Service co
Breleva.fi
Facilities:
balcony, drying room, storage, sauna x2
Energy stamp
Yes
Energy class
D
Traffic and distances
Services
Metro 100m, within 150 m grocery, daypark, schools, bus stop, (metro station soon)
Shopping centers: Iso Omena, Lippulaiva, lake 200m, 1km sea
Transportation
Bus stops: E4426,
E4425
See https://www.reittiopas.fi/ // Länsiväylä is close @ v.2022
Ajo-ohje:
https://www.google.fi/maps/place/Iivisniementie+6/@60.1498844,24.69325
24,17z/data=!3m1!4b1!4m2!3m1!1s0x468df4c58d421b9f:0xc20a6b4dadcc09c3
Form for tenant ID, name, info
-Fill the needed information in this pdf-form. We can then process the application and write papers.
return by mail jarmo.kanerva@duratech.eu .
-The contract is 1 page + info. Sorry – still in finnish. But you will get it if needed for checking.
– The apartment can be only rented with a written contract which is signed by both parties.. We do not reserve the apartment. (There is only one contract at a time, the first one.)
-Raxotech Oy reserves rights to change information in web.
web page of this apartment in vuokraovi.com
Oikotie.fi add https://asunnot.oikotie.fi/vuokra-asunnot/espoo/17075863
Iivisniementie 6 F 46 -apartment